For ad rates and more information please contact:
Goodfellow Publishers' Representatives
(510) 548-1680
[email protected]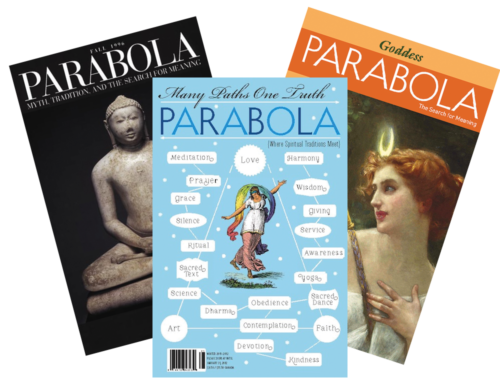 About Parabola
Parabola is the only magazine that brings together the foremost writers and thinkers of our time to explore timeless themes of human existence through the wisdom of the sacred traditions, myth, symbol, art, folklore, and ritual.
Parabola is also the winner of the 1996 and 1997 FOLIO Award for Editorial Excellence.
Each quarterly issue is organized around a central theme such as: Desire, Beauty, The Path, The Future.
Articles by contributors such as Christopher Bamford, John Roger Barrie, Charlotte Joko Beck, Venerable Bhikkhu Bodhi, Joseph Bruchac, Tracy Cochran, David A. Cooper, Gray Henry, Hazrat Inayat Khan, Joyce Kornblatt, Winifred Lambrecht, Roger Lipsey, John Daido Loori, Vernable Narada Mahathera, Seyyed Hossein Nasr, Jacob Needleman, James Opie, P.D. Ouspensky, David Rothenberg, Martin Rowe, Sarah Jane Sloane, Huston Smith, Richard Smoley, Rabbi Adin Steinsaltz, Phyllis Tickle, Doug Thrope,
Simone Weil, Christian Wertenbaker, and Diane Wolkstein.
Reviews of books and events, as well as commentary on recent works in theater, dance, music, film, and television. Interviews with respected thinkers such as Karen Armstrong, Iraj Anvar, Stephen Batchelor, Dr. K.S. Balasubramaniam, Sufi master Sheikha Fariha, Robert Kennedy S.J., Wangari Maathai, Nipun Mehta, Ravi Ravindra, Robert A.F. Thurman, Thich Nhat Hanh, and Marion Woodman. Artwork gathered from cultures worldwide complements and illuminates the ideas explored in the magazine.

Each issue is a beautifully designed, sturdily bound paperback of 128 pages.