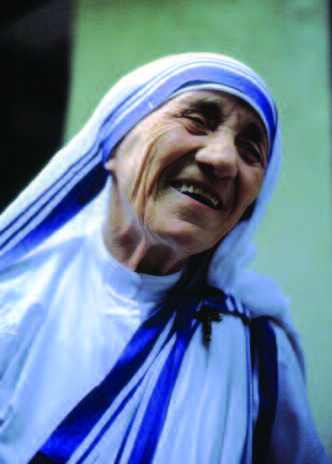 In April 1976, Mother Teresa spoke before the United Nations. The following day, she was interviewed by spiritual teacher and radio host Lex Hixon. What follows are some of Hixon's introductory remarks and a brief portion of his rare interview with Mother Teresa.
–The Editors
A very, very intense being, Mother Teresa was a nun for twenty years in Calcutta, and then suddenly it dawned upon her that she was living in a rather comfortable convent and teaching and serving in that way. Suddenly she realized that [emanations of] Christ—the hungry, the poor, the suffering, the dying—were around her in Calcutta. So she got permission from the Catholic Church hierarchy and began her own order and just went out and lived in the slums of Calcutta and began gathering children and people to her. Now she has various homes like this all over the world. She has, in particular, a house for the dying in Calcutta, a most powerful place….It is an old Kali Temple, strangely enough. The compassionate Mother Kali is supposed to whisper the words of liberation in the ears of the dying. It is more than just a coincidence that this old Kali Temple is now Mother Teresa's home for the dying, where she brings people in from the streets and treats them with gentleness and love and tenderness, and also with a great amount of respect and joy. She has a way of treating suffering people so that they no longer feel the kind of personal diminution that suffering can bring. Mother Teresa, with her touch of divine grace, can restore a person's sense of being a whole person.
–Lex Hixon
Mother Teresa: People are beginning to get more and more awakened to the presence of the poor in the world. They are getting more concerned and desirous of sharing and bringing new home and new life into the lives of those who have lost hope. And I think that we are the same family come from the same loving hand…. It's very beautiful that we get so many young people joining and giving their life totally to God to bring hope, light, and joy into the lives of so many unwanted, unloved, uncared people, and they know exactly what they want.
They want the challenge, the young people today. They want the life of poverty, they want the life of prayer and sacrifice that will lead them to the service of the poor, which is very beautiful, and it is a very, very, very deep thing, knowingly to choose like that…..
Lex Hixon: What is meant by "poverty of spirit"?
MT: That emptiness you feel, that you are nothing—that is poverty of spirit. But there is a spiritual poverty of knowing God, loving Him. In this Western world, there is much more of that than there is material poverty, which we face in Africa and in India, which is easy to satisfy. If there is a hungry woman, I give her a plate of rice—it is finished, she is satisfied. But for people like that here, or in Rome or London or anywhere, a plate of rice is not going to satisfy. They don't need that. The terrible loneliness, that helplessness, that unwantedness, that complete darkness is very difficult [to satisfy]. It is great poverty.
LH: Do you feel greatly saddened by suffering, or do you feel that you are untouched by it to some extent?
MT: Not untouched, but you feel that, for example, when we are the refugees and we have this terrible famine, and things like that, you feel that the passion of Christ is being relived once more, so then it is right to share in your own way. When you see the people suffering so much, like here, now, in this area, you see so much suffering, so much pain, so much loneliness, so much hurt, it is like Calvary—I mean, in a different form.
LH: Do you, [in] your very active life, have times when you take retreats and just pray?
MT: Yes, once a year, we have an eight-day retreat and we have a three-day retreat. And every week we have one day of recollection and we spend four hours a day praying and every day, one hour of adoration after we finish the work. We begin in the morning with maybe two hours of morning prayers and meditation, then Mass and Holy Communion. The life's work is only our love for God [put] into action. The work is a means—it is not an end. It is only that we use our service to the poor to put our love for Christ into action. Without the life of prayer, we can't see Christ in the appearance of the poor….
LH: Would you be willing to read a little from the 15th Chapter of St. John?
MT: You want me to read?…Let me put on my glasses…
[Reads.] This is the place, also, where it says, "Love one another….As the Father has loved me, so I have loved you. Remain in my love. If you keep my commandments, you will remain in my love, just as I have kept my Father's commands, and I remain in His love. I have told you this so that my own joy may be in you, and your joy may be complete. This is my commandment: Love one another, as I have loved you." ♦
Reprinted here with kind permission of Monkfish Book Publishing Company, Rhinebeck, NY from Conversations in the Spirit: Lex Hixon's WBAI "In the Spirit" Interviews: A Chronicle of the Seventies Spiritual Revolution, edited by Sheila Hixon
This issue is available to purchase here. If you have enjoyed this piece, consider subscribing.