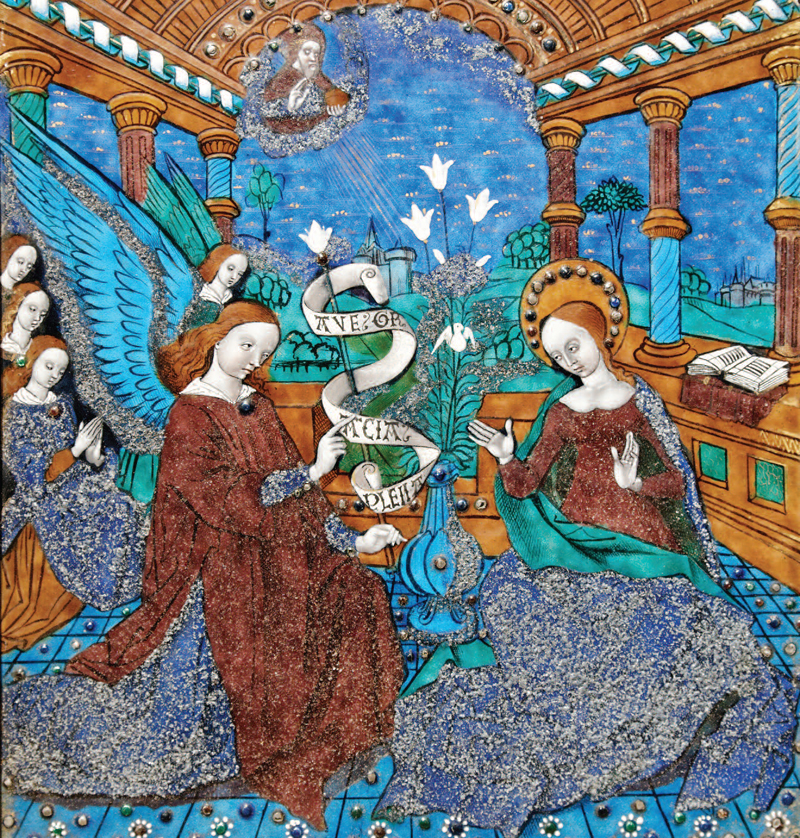 We parked in a field and walked half a mile down a road with the other pilgrims, guided by hand-lettered signs that read "apparition." It was the first Sunday in June, and the Virgin Mary promised to appear after dark on the first Sunday of every month. I thought this unlikely, and Roman Catholic Bishop John C. Reiss of Trenton indicated that he agreed. He directed the faithful not to come.
Still they came. Month after month, up to eight thousand people came to Marlboro Township, New Jersey, a semi-rural community of about twenty-eight thousand. They filled Joseph Januszkiewicz's backyard, and overflowed into the New Jersey night. The scene behind the modest tan ranch house looked like an open-air concert, people sitting in rows in lawn chairs and on blankets, coolers and picnic hampers beside them. The crowd looked like the range of people you see in a suburban American mall, young couples in jeans, white-haired ladies in crayon-colored sweat suits, a few men and women with gym bodies and tattoos.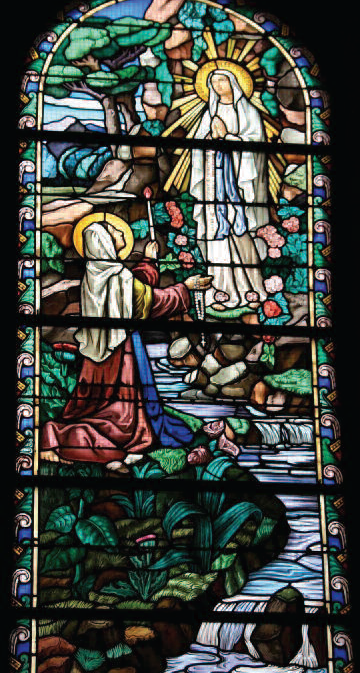 People wore grave, rapt expressions and scanned the sky above the little shrine that stood just off the back patio. The air was warm and rose-scented and filled with the soft murmur of the Rosary, the Hail Mary, the Our Father recited in multiple languages. Closest to the shrine sat people in wheelchairs and others with obvious wounds to be healed. Yet everywhere there was hushed expectancy.
"Regina Angelorum! Queen of Angels! What a foretaste of heaven it is to think thus of Mary our mother ceaselessly accompanied by legions of angels!" Pope John XXIII had proclaimed. Januszkiewicz glimpsed this sublime presence while sitting on a plastic bucket on his patio gazing off above a stand of blue spruce trees. He told the four priests assigned by Bishop Reiss to investigate that the Queen of Angels told him she had chosen him to do "our work" and bade him to pray for the conversion of sinners.
The fifty-four-year-old draftsman had just returned from Medjugorje, a remote mountaintop village in what is now Bosnia and Herzogovina, where in 1981 six young people reported seeing and receiving messages from the Virgin Mary. Januszkiewicz returned convinced that he had been healed from a back injury and a hearing loss and, like others who made that pilgrimage, he started receiving miraculous visits of his own.
The sunset was vast and luminous, a molten orange disk sinking into a horizon turned lavender and pink and orange. Holding my little daughter's hand, husband by my side, I watched, mesmerized. I was there to observe but my heart bloomed with unexpected feelings of kinship and understanding. These people were pilgrims, not just tourists. They were here to feel something ancient and deep and dignified—to offer themselves up to something higher, something that was beyond this sunset.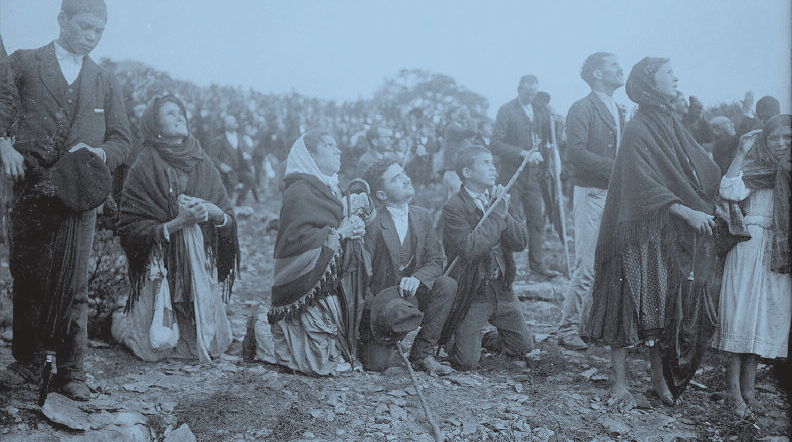 The sky turned that bottomless, celestial blue that precedes full darkness as my little daughter and I stood in line for the port-o-potty. Her eyes were round with bewilderment as she took in the crowd. What was supposed to happen? There were no signs of a band or show. I told her we were going to see a show of devotion. Her mouth pulled down. Her pediatrician encouraged me to take her along on assignments, that such adventures fostered flexibility and an open mind. I wanted to give my daughter the gift of wonder, but she wanted to drive home to Brooklyn.
You heard what happened last time, didn't you? said a middle-aged woman behind us to someone nearby in the crowd. "The moon split in two."  Another woman spoke. "The last time we saw a big colored ring spinning around the sun." The speaker made sweeping circles with her hands.  A middle-aged woman ahead of us turned and smiled, murmuring how wonderful it was that I brought my child. Last time St. Michael the Archangel appeared, she told me in a low, portentous tone, mother to mother, "drenched in red, for all the abortions."  She nodded slowly, wide-eyed, mirroring my shock.
I was there to observe. And in the narrative unspooling in my head, this was the preview before the main attraction. But the sunset wasn't like a movie—it called me inside and outside at the same time, reminding me that I was a human being on the earth looking up at the unknown.
It was not surprising to learn that an angel touched down here—the association is a respected part of Catholic theology. "Mary has authority over the angels and the blessed in heaven," wrote French Roman Catholic Saint Louis Marie de Monfort. For her humility, God made her Queen of Heaven and Earth, a vehicle and dispenser of his grace. And it wouldn't be the first time that Saint Michael the Archangel weighed in on human affairs. He visited Joan of Arc. According to legend, he and Saint George and other angels protected British soldiers on the battlefield at Mons, in Belgium, at the beginning of World War I.
The jolt was realizing that this backyard in New Jersey was perceived as a battlefield. Looking up at the heavens, feeling our human inconsequence and impermanence, naturally leads to a wish to be part of a greater work—to be on the side of the angels. The danger comes in being too certain that we are soldiers on the side of truth and goodness. One definition of faith is keeping the heart open in the darkness of the unknown, trusting our capacity to be part of what we cannot know.
Darkness fell in the backyard in Marlboro, New Jersey. Minutes later, a swarthy, middle-aged man stepped out on the patio and led the crowd in repetitions of Hail Mary and Our Father, his voice loud and raspy, as if used to yelling over loud machinery. After an hour, he fell silent and Januszkiewicz, diminutive and grey-haired, hurried out of his house as he had on the first Sunday of every month for the past several years.
Kneeling before the shrine, he sank into silent prayer. The corresponding silence in the crowd was deep. Twenty minutes later, Januszkiewicz said his first and only words, a quick recital of the Lord's Prayer, and rushed back into his house. He said not a word about whether or not he'd seen a vision of the Virgin Mary or what she may or may not have told him. He offered nothing.
As soon as the door closed behind him pandemonium erupted. "Look, over there!" Do you see it? It's showering gold!" A scream and another scream and hundreds of flashes on hundreds of cameras went off, all aimed at the TV antennae over the house, at the blue spruce trees, at the stars above. "Look at that planet! See it move!" I had come to Marlboro expecting emotional displays of piety but I was stunned by the seeming hysteria that was breaking out around me. "That's heat lightening over there where she was," shouted a man, pointing over the house. "That never gets reported by the press."
Far in the back rows, an old woman prayed in Italian with her arms stretched out like a cross, her palms open to the sky, praying in a most ancient and vulnerable way, ecstatic, beseeching, surrendering completely. In her and all around her there was no mistaking the passionate yearning that gripped the crowd. There was no mistaking the wish to commune with the divine—to be part of it, to be healed in the root sense of being part of a greater whole. I saw nothing but the dark sky.
The Catholic Church takes apparitions of the Virgin Mary seriously. Careful investigations assess the sanity and veracity of the seer, and the sanctity of the message. Catholics make a distinction between public and private revelation—a distinction between the revelations of God revealing himself to humanity, preserved in sacred scripture and sacred tradition, and the private revelations of saints and common men and women. In rare cases the church may recognize and approve as supernatural and miraculous a vision and messages of Mary by private revelation.
One instance happened in Lourdes, in France, another in Portugal. In 1858, the Virgin appeared to fourteen-year-old Bernadette Soubirous, telling her to dig a spring that has ever since been a holy site. By 1959, of thousands of healings, fifty-eight had been deemed miraculous, including the healing of cancer, TB, blindness. In 1917, the Virgin appeared to three shepherd children in Fatima, Portugal, another site of pilgrimage that was declared authentic by the Church.
Ultimately, the vision of Mary in Marlboro Township was declared false. The Church also concluded that there was no miracle at Medjugorge. So what could account for that incredible spectacle of longing? "I think there's a general disillusionment with institutions these days," Sandra Zimdars-Swartz, professor of religion at the University of Kansas and author of Encountering Mary: From La Salette to Medjugorje, told me. "People are disillusioned. In times like these, people tend to seek reassurance. That's what seems to be happening at these apparition sites."
The late Lex Hixon, Sufi teacher and author, saw the American Marian phe­nomenon as an interplay of disparate social and spiritual causes. On the one hand, it expresses a conservative apoca­lyptic movement. On the other, our rationalistic bias against mystical experience, what he called "living water, a kind of stream of higher intelligence," is beginning to erode. "In the old days," he told me, "in villages like Garabandal and Lourdes, apparitions would arise because there was a kind of spiritual openness or atmosphere of faith that would allow these underground springs to come up. In modern culture, we've laid a kind of parking lot over all of that, even inside our religious congregations. Lately, the parking lot has been dissolv­ing because there's uncertainty all over the world, and these things are rising up again. Of course, we can't discount the role of the mass media in publicizing these events, but something much deeper is happening as well."
Carl Jung called Marian visions one of the "visionary rumors" that appear whenever a culture is poised for epochal change. According to Jung, these visions are created by one or more visionary gripped by an unconscious wish, fear, or fantasy that erupts from the unconscious in a concrete yet symbolic form that speaks to others so deeply that in effect it becomes real. The visionaries themselves are often those least able to accept the contents of their own unconscious. They are innocents, symbolically projecting their deepest religious longings and fears, and those ecstatic and often apocalyptic images and messages strike a chord.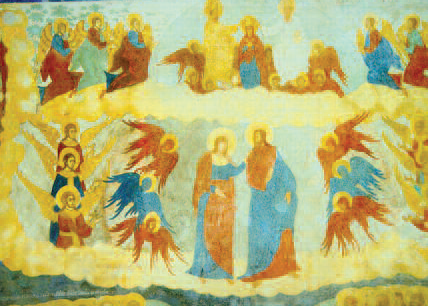 Seeking answers of my own, I pressed on, following another mystical rumor to Lake Ridge, Virginia, a tidy Washington suburb whose residents drive BMWs and other high-end cars and decorate the front doors of their modern colonial-style houses with wreaths of berries and twigs, harkening back to a Virginia long gone. The houses and lanes in this affluent community are planned and laid out with a military precision that seems at odds with the rolling landscape. Many who live here, including many who attend St. Elizabeth Ann Seton Church, are highly trained professionals who work for the military, the FBI, CIA, or other facets of the government, yet who practice a simple, conservative brand of Catholicism.
Here, in December 1991, Father James Bruse began bleeding from the wrists and feet. For months, few outside an inner circle of priests and family knew what was happening. Bishop John Keating of Arlington, Virginia, asked Father Bruse's superior to have the assistant priest checked out by both a psychiatrist and an internist, and both judged him to be normal. Yet in March 1992, the gold-painted fiberglass Madonna in the sanctuary of the church began to weep in front of some five hundred people, and Father Bruse's stigmata became public knowledge.
Thousands descended on the church hoping to receive a blessing from Father Bruse. In his presence, it is said that countless statues of the Virgin Mary wept, including a tiny Madonna concealed in a woman's purse. Other miracles were reported: there were healings and sightings of spinning suns and other effects associated with Mary. In the presence of the young assistant priest, people were healed, and rosaries turned from steel to gold.
The day I attended Mass, there was no sign of Father Bruse or his bandaged wrists, yet after the service a small crowd gathered around the Madonna with her artificial flower crown. "She helps me feel God's presence," said a well-dressed woman from New Jersey, who told me she had been to Marlboro as well. To find out what an authority in the Roman Catholic Church had to say about Marian visions and stigmatics and weeping statues, I spoke to Father Benedict Groeschel, director of the Office of Spiritual Development for the Archdiocese of New York, and author of A Still, Small Voice, a guide on evaluating reported miracles that was used by the Church commission that investigated the apparition at Marlboro.
"I blame the sudden prominence and interest in this kind of phenomenon on the extreme rationalism in our culture," said Father Groeschel. "By emphasizing rationalistic explanations, contemporary theology has taken all the mystery out of the Bible. Personally, you couldn't get me to walk across the street to see a weeping statue. I'm also not very impressed by some of the stigmatics around," said Father Groeschel in a gravel-voiced old school New York accent. "One must remember the interest in this kind of thing relates to humble peoples' religion. We have to have respect for the religion of the ordinary humble person who in a naïve way seeks to have his faith affirmed through tangible phenomenon. Yet people must try to put aside this childlike spirituality."
What was fascinating was that highly educated and accomplished people, people trained in science, capable of flying a jet off an aircraft carrier rolling in high seas, were drawn to the miraculous. "The people you describe at Marlboro are getting a glimpse of the ancient Christian and Muslim ideal of the exaltedness of humanity," said Lex Hixon. "But people have to move beyond the thrilling experience of looking up at the night sky and throwing their arms open wide and praying and feeling like they're in direct contact with the divine. Not to dismiss the fervor, but there's something very immature about it. It's a kind of spiritual puberty. People need to go further and learn to develop themselves so they can go help heal the earth and the rest of humanity. That's why we need the Bible and the Church and the liturgy and all the world's great religious teachings. You can't get the kind of instruction you need to develop spiritually just by standing in a field."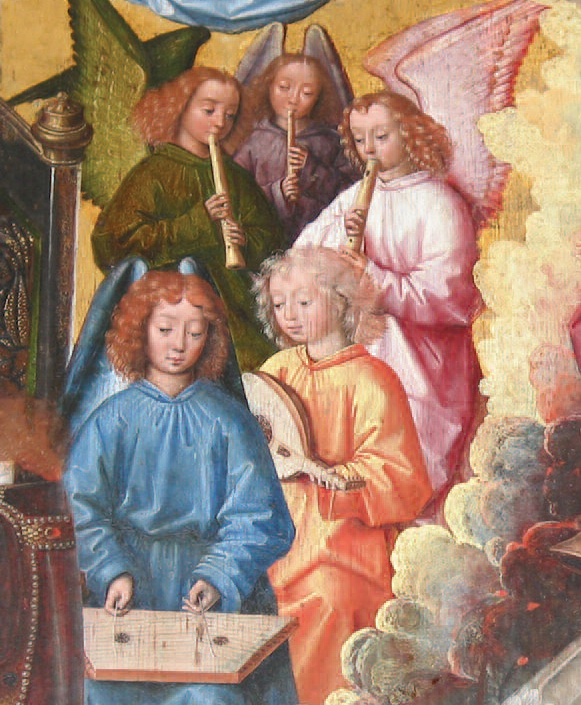 I went to see one last reported miracle. The local New York TV news showed an Egyptian family and their friends crowding their apartment in Bensonhurst, Brooklyn, all of them staring with rapt expressions at a glistening copper icon of the Virgin Mary. Purchased by the Boutros family in a church gift shop in Cairo, the icon was said to be weeping oil tears. Behind the family stood a bearded figure in long black Cossack assuring the TV audience. By April, the icon was said to have stopped weeping but the faithful continued to come to Bensonhurst, to the Coptic Orthodox Church of St. George, where the icon had been moved. I watched people, faithful or just curious, creep up to the icon as if it were alive, making the sign of the cross, looking timidly, adoringly.
"We have the holy oil from the icon mixed with olive oil for the pilgrims," Father Mina Yanni told me. I watched pilgrims dip cotton balls into a jar of the greenish mixture placed below the icon. He saw no problem in adding olive oil once the tears stopped flowing. "Of course it's a miracle," said the grey-bearded priest in long black robes. "This is a message from St. Mary. She wants people to have good relations with the Lord. If it's not a miracle, how could the oil have gotten there? It's a message from St. Mary who wants all people to be one." Father Yanni gestured to a middle-aged woman standing in front of the icon. "She's Roman Catholic but she comes here every day."
"I can't help it," said the woman. "I love her. She's so beautiful." I watched her and others gaze adoringly at the icon, seeing that these faithful were giving them­selves up to something higher, find­ing peace and acceptance and forgiveness in the presence of a compassionate and all-seeing mother, who also happened to be the Queen of Heaven.
Father Yanni led me to his office, where he held out a notebook that con­tained handwritten accounts of personal miracles attributed to the weeping Madonna, including the story of a man who experienced relief from the pain of his sciatica after he rubbed his back with a cotton ball dipped in her oily tears.
I pointed out the results of a test conducted with the blessings of the Coptic Church before the flow of tears from the icon stopped. The holy oil turned out to be a form of vegetable oil. I asked Father Yanni if it could be possible that he had been the victim of fraud. The Coptic priest's dark eyes flashed, at once plaintive and piercing, as if they were placing me, recognizing me as a type. "I'm not a victim of fraud. I saw it with my own eyes. This was a miracle."
Later, back in my apart­ment in my neighborhood in Brooklyn, I wondered if I myself wasn't a victim of fraud, if my world hadn't been scrubbed and sterilized of all that is beyond our current human grasp. Inevitably, I had to face my own righteousness and bias, the way I treated the people who believed in miracles as if they were embarrassing relatives. I acted as if the divine shared my view, favoring private insights, openings of the heart, glimpses of the higher that could be explained as an interior phenomenon. Surely God, if there was a God, didn't go for hysterical public displays of devotion. As if Creation was meant to be a work of … understated elegance? I came to see that this was a way to dismiss the real agency of these experiences. Never mind what I thought I believed or didn't believe: there might be angels. ♦