Parabola Volume 44, No. 3, Fall 2019: Mercy & Forgiveness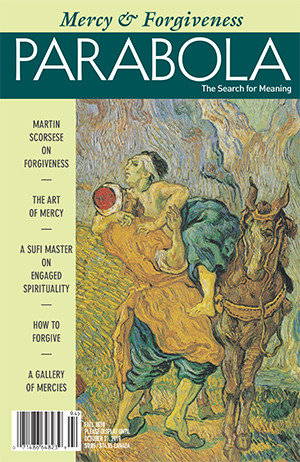 Two acclaimed filmmakers open this issue of Parabola: Martin Scorsese, director of Taxi Driver, Raging Bull, Casino, Kundun, Silence, and other masterpieces including this Fall's offering, The Irishman; and Kent Jones, creator of this year's Diane and director of the New York Film Festival. Scorsese writes of forgiveness; Jones discusses how forgiveness informs and illuminates Scorsese's movies.
What stands out in both men's essays and in their art is an understanding that we each exist in a web of meaningful relationship; that what we do matters, that we each have a responsibility to others and to the world. This critical point is explored further in the issue's next essay, by Sufi master Llewellyn Vaughan-Lee, who details his evolution toward spiritual activism.
That activism—taking responsible action toward a noble aim—finds no more fertile ground than in the practice of mercy and forgiveness. "Forgive us our debts," Jesus taught, "as we forgive our debtors." He also taught that the Kingdom of God is within; and so it follows that we should practice mercy and forgiveness not only toward others but toward ourselves as well. As Nobel Peace Prize winner Desmond Tutu points out in this issue, failure to forgive "locks you in a state of victimhood," and when you forgive "you are no longer chained to the perpetrator."
These ideas are explored throughout the issue in entries ranging from Mirabai Starr on the art of mercy to Seane Corn on forgiving the unforgiveable; from a meditation on why whales forgive us their slaughter to the story of an Israeli woman forsaking vengeance for her son's murder; from a consideration by Pope John Paul II of the Parable of the Prodigal Son to a remarkable gallery of paintings celebrating the merciful Heart Sutra, and much more.
May this Fall 2019 issue of Parabola benefit us all in our search for peace and understanding, for mercy and forgiveness.
—Jeff Zaleski
Cover Description: The Good Samaritan (after Delacroix — detail). Vincent van Gogh, 1890. Oil on canvas. Kröller-Müller Museum. Otterlo, Netherlands
Purchase this issue
---
TABLE OF CONTENTS
ESSAYS AND CONVERSATIONS
His Father Saw Him and Had Compassion Jesus of Nazareth
The prodigal son returns
A Statement Martin Scorsese
The filmmaker writes about forgiveness and acceptance
The Wall and the Mirror Kent Jones
Forgiveness in the work of Martin Scorsese
Spiritual Principles in Action Llewellyn Vaughan-Lee
The Sufi master on meeting the inner and outer challenges of our time
Forgiving Mirabai Starr
The art of mercy
A Gesture of Forgiveness Eleanor O'Hanlon
Why the whales forgive us
Why Forgive? Richard Smoley
How to live a freer life
In the Name of My Son Rabbi Tirzah Firestone
Her son was killed but she chose peace, not vengeance
To Forgive Desmond Tutu
The Nobel Peace Prize winner explains how to forgive
Painting Enlightenment Paula Arai. Artwork by Iwasaki Tsuneo
A remarkable gallery of Heart Sutra art
Mercy Lee van Laer
Understanding mercy as a force from on High
Who Decides History's Future? Alexandra Haven
Repairing the damage when cultures collide
The Toughest Spiritual Practice Seane Corn
A popular yoga teacher ponders forgiving on the mat and off
Walking the Path of Forgiveness Elizabeth Randall
She befriended a murderer and found release
The Power of Forgiveness Satish Kumar
A former Jain monk on healing the world
Bamboo Gesshin Claire Greenwood
How to turn poison into a meal
The Parable of the Prodigal Son Pope John Paul II
The late pontiff on forgiveness, justice, and mercy
EPICYCLES
Fujtio Anonymous / Japanese Noh
Retold by Kenneth E. Lawrence. Artwork by Kumiko Lawrence
The Woman Without a Shadow Anonymous / Scandinavian Folk Talk
Collected by Svend Grundtvig. Retold by Betsy Cornwell
BOOK REVIEW
Pray Without Ceasing: The Way of the Invocation in World Religions
Patrick Laude / reviewed by Samuel Bendeck Sotillos
ENDPOINT