The Quest: Parabola Volume 45, No. 1, Spring 2020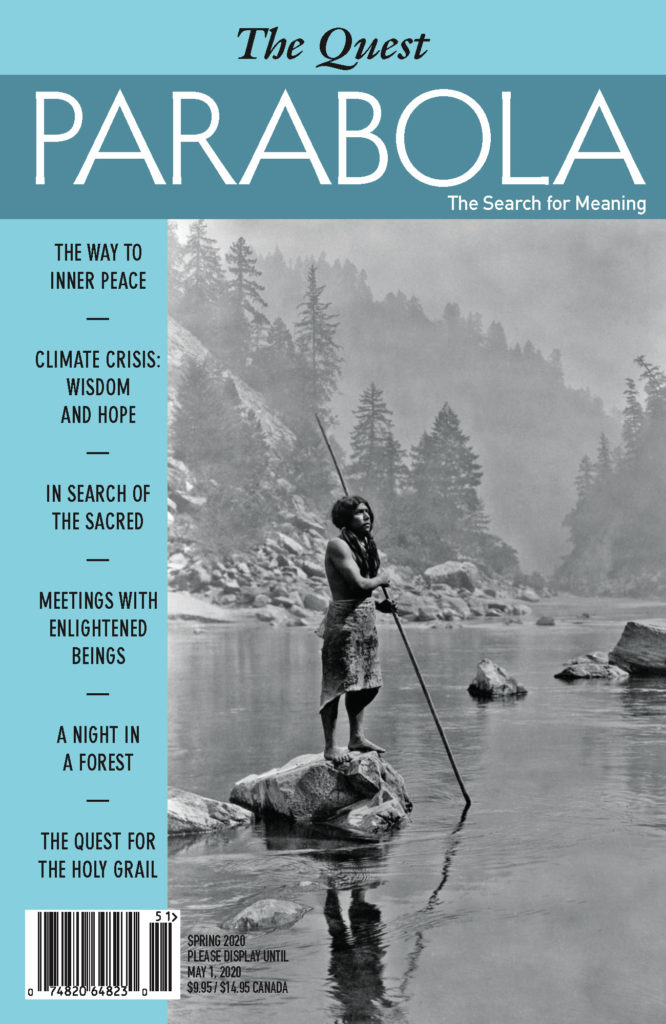 Every reader of Parabola is on a quest: the "search for meaning" on our cover could equally read "quest for meaning." For many, involvement with quest has been lifelong. As a teenager I daydreamed about searching for the Holy Grail. It wasn't the sacred relic that fired my imagination, but the quest—the chance to devote body, heart, and mind to the pursuit of something of infinite value.
This Spring 2020 issue of Parabola teems with stories of women and men on similar paramount quests—for the Grail, and for more. There are Dag Hammarskjold, Vaclav Havel, and G.I. Gurdjieff, three wise men who guide us and author Roger Lipsey toward resolution of our global climate crisis. There is religion scholar Elaine Pagels, talking about her quest to understand the gnostic teachings of Jesus.
There are also Cynthia Bourgeault on the discovery of the ancient way of the heart; Brian Swimme on the search by science and spirit for understanding; and Tracy Cochran and Herman Hesse on the Buddha's quest for enlightenment. Mark Nepo relates how a monkey helped a young man's spiritual search, and Stephen Levine remembers how a salamander aided his. There are fairy tales, reveries, and an encounter with the enigmatic author of the spiritual classic I Am That.
As an adult I learned that the quest for the Grail is an outer representation of the inner search. It is this inner quest, the search for truth, wisdom, and being, that unites all of us who read Parabola. May these pages serve you well in that endeavor.
–
Parabola mourns the passing of two great friends. The Very Rev. James Parks Morton, dean of the Cathedral Church of St. John the Divine Cathedral in Manhattan, served on the governing board of this magazine for many years. Spiritual pioneer Ram Dass, beloved by many, appeared in this magazine several times as an author or interview subject. We are grateful to both men for all they gave.
—Jeff Zaleski
Cover Description: A Smoky Day in the Sugar Bowl. Hupa man with spear. Photograph by Edward R. Curtis, 1923. U.S. Library of Congress Prints and Photographs Division
Purchase this issue
---
TABLE OF CONTENTS
ESSAYS AND CONVERSATIONS
You Are Not Alone in this Awakening Gangaji
"There are people all over the world . . . "
From Whence Cometh Our Help? Roger Lipsey
Guidance for our time from three wise men
Evolutionary Spirituality Rupert Sheldrake
On the front lines of search
Radiant Intimacy of the Heart Cynthia Bourgeault
An ancient practice revealed
A Night in the Forest Tracy Cochran
In the darkness, the Buddha found light
The Monkey and the River Mark Nepo
How to dive into life
The All-Nourishing Abyss Brian Thomas Swimme
The creative core of the universe
Wonder Stories and the Inner Quest Nan Runde
The meaning of "Snow White" and other magical tales
Standing Up Grace Schireson
The monk hit her. What to do?
A Remarkable Man Bruce McEver
An encounter with the author of I Am That
The Secret Teachings of Jesus Sam Mowe
A conversation with scholar and author Elaine Pagels
Holy Women Robert Ellsberg
Four role models for all who seek the sacred
The Salamander of Forgiveness Stephen Levine
A moment of grace
Burning Man Caveat Magister (Benjamin Watts)
Lessons from the legendary festival
Revolution Surnai Molloy
Dreaming of a world renewed
It Had to Be Found Herman Hesse
Siddhartha sets forth on his quest
POEM
The Journey to the Beloved Jalāl ad-Dīn Muhammad Rūmī
BOOK REVIEW
Shining Light on Transcendence: The Unconventional Journey Peter Fenwick / reviewed by David Stang
ENDPOINT